Data Sheet
In this article
---
Watchdog Overview
Watchdog provides network monitoring for enterprises, carriers and ISPs, edge IoT fleets, and remote workers.

The Watchdog Network Monitoring application uses the EdgeLQ platform to orchestrate distribution and enablement of monitoring agents as native applications on PCs, containers on dedicated hardware and Cisco routers and switches, and VMs.

Watchdog agents ping internet endpoints to report internet quality by targets, target groups, geography, agent, agent groups, and ISPs. Real-time and time-series monitoring data is available by API or in the Watchdog Dashboard for data visualization.

Watchdog System Overview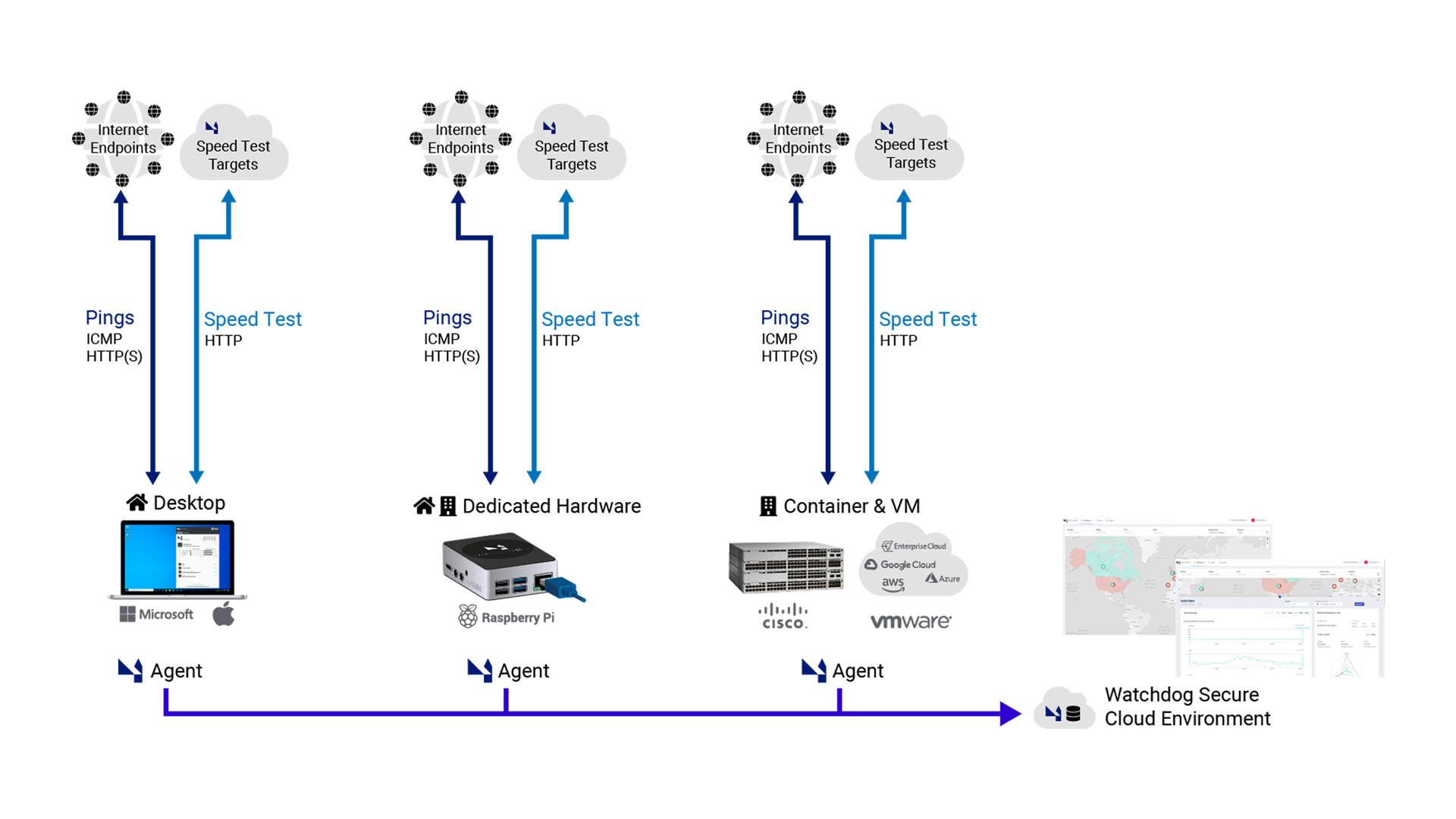 Deploy Watchdog across the network
Deploy the agent to existing hardware like Cisco switches and routers as a docker container
Or install the watchdog agent on dedicated hardware like Dell EMC VEP 1425 or Raspberry Pi and connecting them to the branch ethernet
No configuration is required. The device will connect automatically onboard to Watchdog in minutes
Run the Watchdog Agent in a VM with a custom image for each installation
VM configuration is as easy as assigning the activation token and naming the VM on Watchdog Dashboard
No further configuration is required. The VM will connect automatically onboard to Watchdog in minutes
Windows and macOS native application
Desktop UI for users to monitor the hardware, WiFi, and ISP conditions that shape their internet quality
Security and privacy ensured
Agent does NOT allow remote access to the agent software or host device
Agent is NOT a browser-based application that collects surfing behavior
End-user control and transparency
No root access required for installation/upgrades
Pause internet monitoring at any time or pause speed tests to conserve bandwidth when using mobile networks
View logs of all monitoring activity
Submit internet quality ratings to IT
Override location detection to provide better location specificity
Watchdog Agent Requirements
CPU: vCPU
Headless: 100 MB (no user interface)
Desktop Application: 250 MB
Protocol

Ports

Destination

Direction

Purpose

TCP
80/443
*.edgelq.com Configured HTTP(S) targets
Outbound
Access to Watchdog controolers (HTTP2 must be supported when an HTTP proxy is configured) HTTP(S) probes
ICMP
NA
*
Outbound
ICMP Probes to default and custom targets
UDP
53
DNS Server IP
outbound
DNS Lookups
UDP
3478, 19302
*
Outbound
Stun server - used to determine public IP Address
ICMP
NA
*
Inbound
ICMP Time exceeded messages should not be blocked by firewall for hop trace
UDP
*
Targets for which hop trace is enabled
Outbound
Hop tracing on Windows OS (ICMP is used on Linux)
Watchdog Metrics
Method

Size/bandwidth

ICMP
packet size: 64 bytes per ping
HTTP/HTTPS
Packet size: Varies by endpoint
Hops
Packet size: 64 bytes per packet
Number of packets varies by number of hops
Speed test for broadband and wireless
Bandwidth used: 4 MB upload/4 MB download
Speed test for 10 Gbps high-speed networks
Bandwidth used: 4 MB upload/4 MB download
Minimum Interval: 1 second
Recommended defaults
Public targets: 30 seconds
Local targets in LAN: 1 second
Data Resolution: 1 minute
Threshold-based quality profiles
Compare real-time and time-series data by latency, jitter, and Loss
Create multiple customized quality profiles per project
Selectable measures
Evaluate real-time and time-series data by the aggregation method
Median: Midpoint data collected
Percentile95: 95/100th value average
Percentile99: 99/100th value average
Latency, jitter loss by:
Geography: Country, state/province, city/locality
Targets and target groups
Metrics configuration by API and dashboard interface for:
Targets and target groups
Target distribution to agents by tag and group
Agent groups to create aggregated views for teams, hardware types, etc.
CPU
Memory
Wifi signal strength
Network interface metrics
1-minute resolution: One week
1-hour resolution: After one week
Data deletion based on contract requirements
Data transfer before deletion not currently supported
Watchdog SaaS Features
User management

Role-based access control

Dashboard user management email invitation, role setting, role promotion/demotion, revoke user access

Agent Management

Multiple activation modes for Agents

Shared Token and individual token for Desktop Agent

Embedded credentials for OS image

Desktop agent download and token-based onboarding emails to end-users using dashboard forms or Excel upload batch operations.

Auditing of user operations

Data Visualization

Aggregate views by map location

Real-time and time-series data for targets, ISPs, hardware

Aggregated by geography and groups

Viewable by an individual agent

Ratings and alerts

Ratings aggregated by geography and groups

Downloadable PDF views and link sharing

Additional features

Data separated by the project in a logical database with access control

Remote device management via SSH and SCP access for devices running EdgeLQ OS Raspberry Pi, Dell VEP 1425

Language Support

Dashboard and Knowlege Base
Documented REST and GRPC API
The EdgeLQ platform provides the highest-level data security architecture and practices that enterprise SASE and Zero Trust applications and services require
All data is encrypted in transit
Multi-layer access control to all systems
Multi-tenant data storage protects all client data
Data stored and secured on Google Cloud Platform
Level 3 & 4 support to reseller/integrator
Level 1 & 2 support provided by reseller/integrator
Service Experience Insights v1.2.2 - Updated: 2022-11-29 16:16-UTC