---
User roles and technical requirements for this article
| | |
| --- | --- |
| User Roles | Admin    Co-admin    Asset Manager    Admin Viewer    Viewer |
| Browser Support | Google Chrome 7.2.502 or later    Edgev.79 or later |
---
In This Article
---
Visibility of end-user experience over networks is challenging, particularly as applications are further distributed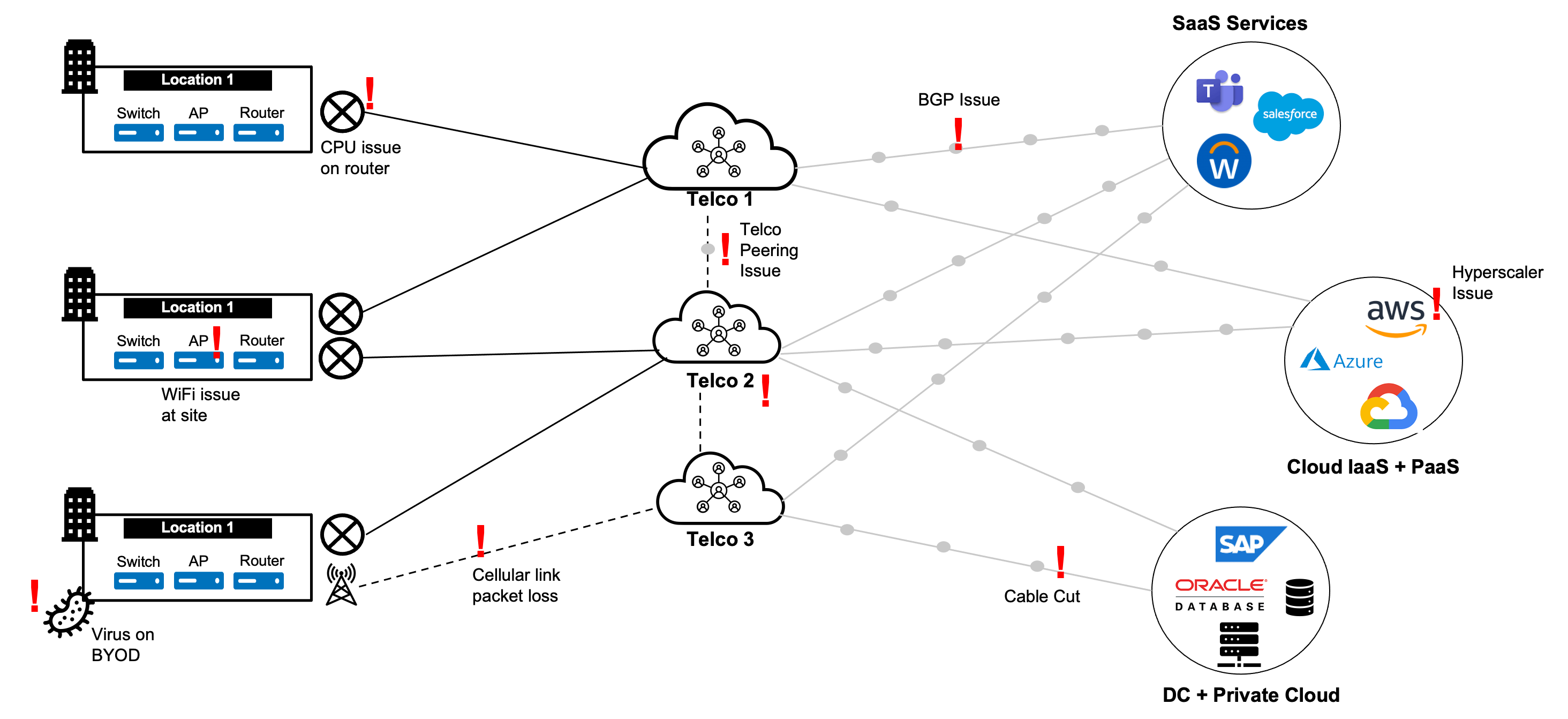 There is a multitude of things that can impact service experience, even though the network infrastructure is available
Client network infrastructure is available and functioning, however end-users are complaining of slowness, and an inability to access critical business services
As critical business services move and change in line with a client's digital transformation agenda, ensuring end-users have a positive experience in paramount
Additionally, internal IT teams need greater visibility into how users are experiencing business critical applications and services, particularly as they move to SaaS and Cloud
Monitoring solutions in market today
The current and future state of networks relies on a better approach to network monitoring, visibility, and intelligence.
There are many network monitoring products, but not enough insight. Why?
Technology Specific Monitoring
Vendors provide tooling to monitor and alert on their own technology – why do I need anything else?
Vendor tools are good to monitor their own technology stack, however they cannot see beyond the boundaries of that technology. In a multi-vendor environment you end up with multiple tools, and issues with handoff between technologies
Often the ability to tune events and alerting in vendor tools is very limited
Open Source Aggregation Tools
There is a number of DIY approaches to network and infrastructure monitoring available – why would I pay?
Building, tuning and maintaining an open source monitoring tool is a non-trivial task. Doubly so when you look at reporting, analytics and visualisation of data. Is your core business building and maintaining monitoring tools?
Extending open source tools to new technologies is also a non-trivial task – do you have the right people to do this?
Third Party Overlay Monitoring Services
Overlay monitoring solutions can provide additional visibility into user experience, but come with limitations.
Third party overlay monitoring tools provide visibility into how end users experience accessing applications over the network
Commercial models, choke points and bandwidth limits mean these solutions aren't always a good fit
Correlating data between the overlay monitoring tool and the network vendor tooling can be challenging
Why try and bring these things together at all? I will have eyes on screens approach instead.
A people based approach for event to incident triage and incident raising worked when devices were simple, and business requirements were equally simple
Changing business requirements, combined with increasing amounts of data from technology platforms, and the need to correlate across multiple technology types, and at different layers, means humans will struggle to make sense of the data in a timely fashion
NTT network services platform
Service Experience Insights is a component of NTT's enhanced network services platform that delivers a portfolio of capabilities underpinning execution of our managed network services solution.
NTT's approach to monitoring and management services for our clients addresses the challenge of disparate monitoring solutions in market. Through the use of tools that aggregate technology specific monitoring solutions, combined with tools that monitor how users experience key applications and services through the network, all correlated together through a common AIOps platform, NTT is able to much more accurately pin-point client impacting issues when they occur, and provide clients IT teams with the visibility and Insights they need to proactively respond to end-user impacting events.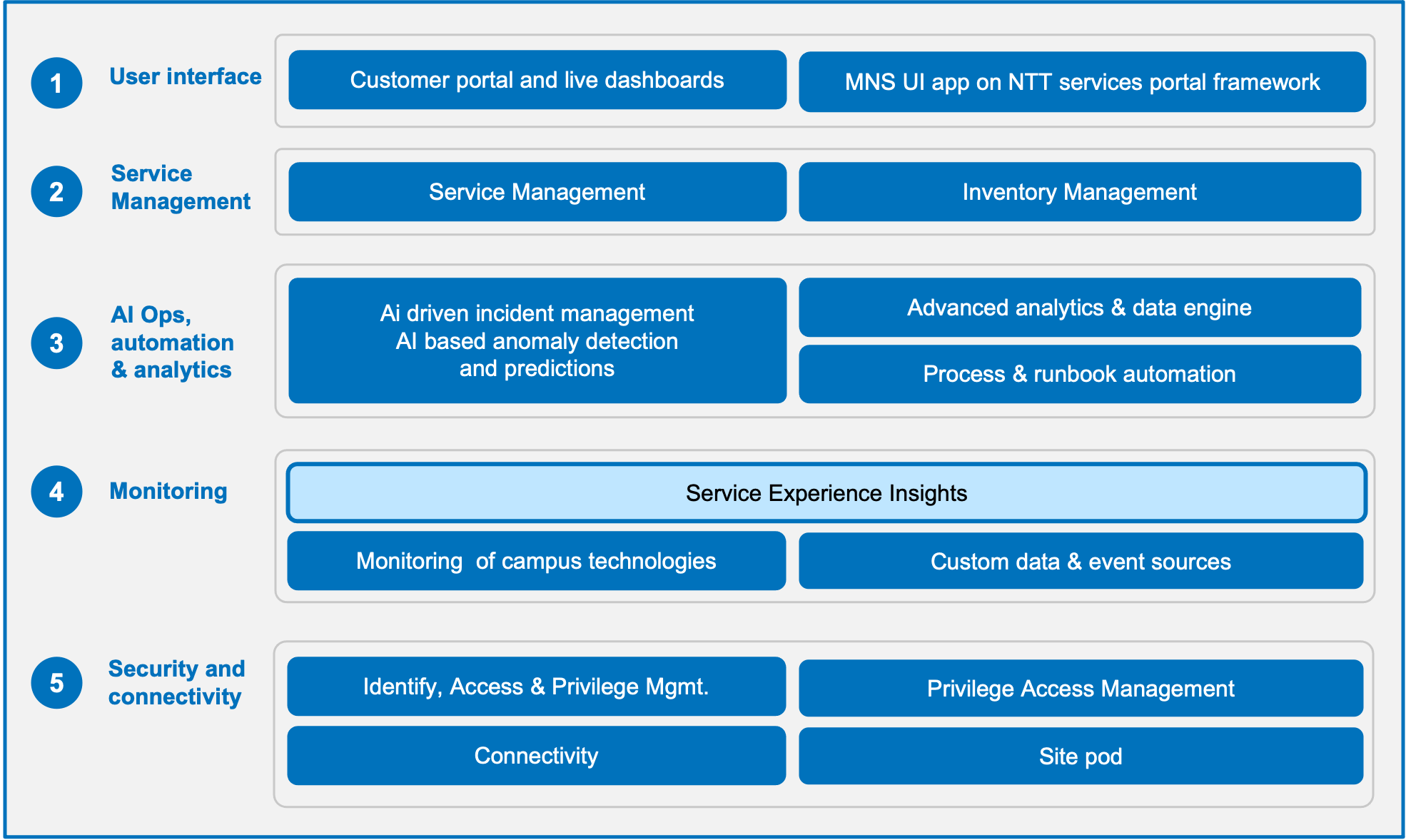 Best in class client experience – better service KPIs, reduction in incidents noise and improvement in quality
Online visibility across campus network locations, enhanced through the introduction of Service Experience Insights – through the network monitoring that compliments network infrastructure monitoring
Improved availability of the network - proactive incident detection
Rich analytics - key insights to customers across all aspects of network technoloy (availability, throughput, utilization, etc.)
Security & compliance in every area of the clients' network operations including privilege-based access management
NTT's Service Experience Insights are an addition to our Managed Campus Networking portfolio.
Service Experience Insights are a way for clients to continuously monitor how their users experience accessing key business critical applications – whether they are in the cloud or on premise – from multiple locations on their network.
Service Experience Insights supports the following key use cases;
Continuous path monitoring including ping loss, latency, jitter and ping round trip time between edge locations and SaaS, Cloud or on-premise targets
Speed test monitoring between edge locations and Cloud or on-premise targets
Internet path discovery and monitoring showing the route traffic takes from the edge location to targets
Service Experience Insights are then combined with network metric information, to provide a wholistic view of network health and user experience to clients.
---
Comprehensive, high-fidelity, and affordable network service experience monitoring tooling
---
Flexibility to monitor rapidly evolving network topologies, and changing client business requirements, with the necessary granularity client's demand
---
Vendor and topology agnostic solution designed to address as many client use cases as possible
---
Simple to deploy, simple to use SaaS based platform designed to provide an observability layer on top of networks under management by NTT
Agents
Agents are

Targets
Targets are the endpoints for synthetic probing traffic from agents

Target types
Service Experience Insight supports Unmanaged Targets and Managed Targets
Unmanaged Targets are public IP addresses and domains that receive synthetic probing traffic from agents
Managed Targets are agents with target functionality enabled that receive synthetic probing traffic from other agents
Probing protocol and available metrics vary by target type
Probing protocol by target type
| | ICMP | HTTP | UPD | Speed Test |
| --- | --- | --- | --- | --- |
| Unmanaged Targets | | | -- | |
| Managed Targets | | -- | | |
Protocol by target types
| | ICMP | HTTP | UPD | Speed Test |
| --- | --- | --- | --- | --- |
| Unmanaged Targets | | | -- | |
| Managed Targets | | -- | | |
Metrics by supported protocol
ICMP
HTTP
UPD
Speed Test
Jitter (ms)
--
Loss (%)
--
--
HTTP Availability (%)
--
--
--
HTTP Request Response Time (ms)
--
--
--
Connection set up
DNS lookup (ms)
--
--
--
Initial connection (ms)
--
--
--
SSL (ms)
--
--
--
Request Response
Request Send (ms)
--
--
--
Waiting TTFB (ms)
--
--
--
Content Download (ms)
--
--
--
Hops Latency (ms)
--
Probing Interval Default
30 seconds
60 seconds
30 seconds
1 hour
Probing Interval Custom
1 sec. to 10 min.
30 sec. to 10 min.
100 millisec. to 10 min.
1, 6, 12, 24 hrs.
Probing Duration
NA
NA
NA
3, 8, or 10 sec.
Probing Distrutions
Probing Distributions are configurable policies for triggering synthetic monitoring traffic between agents and targets.
Multiple probing distributions are created in the dashboard for each tenant and stored on the regional controller
Probing distributions define:

Probing Configuration
Once saved and enabled, the probing distribution issues a probing configuration to the selected agents
The probing configuration instructs the agent to probe the targets defined in the probing distribution, the desired probing method, and how often to probe each target
Changes to the probing distribution include adding or removing targets, enabling path discovery, or changing the probing interval
The controller pushes updates to each agent every 60 seconds
New metrics are visible on the dashboard within five minutes
Probing Sessions
Probing session is the configuration for one agent to send probing packets to one target
Probing Event
Probing event is each instance that probing packets are sent in the probing session