Probing Distribution
User roles and technical requirements for this article
Users
Admin
Browser support
Google Chrome 7.2.502 or later
Edge v.79 or later
About target creation and probing distributions
Admin-level users are able to create targets and assign targets to agents
Agents then ping the targets to generate the internet quality metrics found on the dashboard
This process is used for all target and agent types
Targets are assigned to target groups and can be tagged to finely tune Watchdog internet quality monitoring data for a variety of use cases
In this article
---
Probing Target Creation
Create ICMP, HTTP(S), and speed test targets by IP or URL
Assign logical groups, names, and tags to the targets
Once targets are created and labeled, they are ready to be assigned to agents
Step 1: Add targets
Navigate to the Settings page from the top navigation bar

Click
to open the add target form

Step 2: Assign target group
All targets must be assigned to a target group
Select from existing target groups, or create a new target group

Step 3: Name target
Create a unique name for each target

Step 4: Select target probing mode
Probing modes for ICMP, HTTP(S), and speed tests are supported

Step 5: Enter the target IP or URL

Step 6: Set probing interval:
Probing interval sets the frequency of pings from agents to a targets
30 seconds is the shortest probing interval and is the default setting when a new target is created
Longer probing intervals can be set
After the first week, time-series data in the dashboard resolves to 60 seconds data resolution if the probing interval is set to less than 60 seconds

Step 7: Assign target tags
Tags are not required, but they make it possible to create probing distributions to agents from multiple agent groups or as a subset of an agent group
Select exiting tags or create new target tags
Tags must be alphanumeric. White space is not supported. Use hyphens, and underscores to separate words.

Step 8: Click Create to save the target
The newly created target is now ready to be assigned to agent(s) in a probing distribution
Edit or delete the target form the list below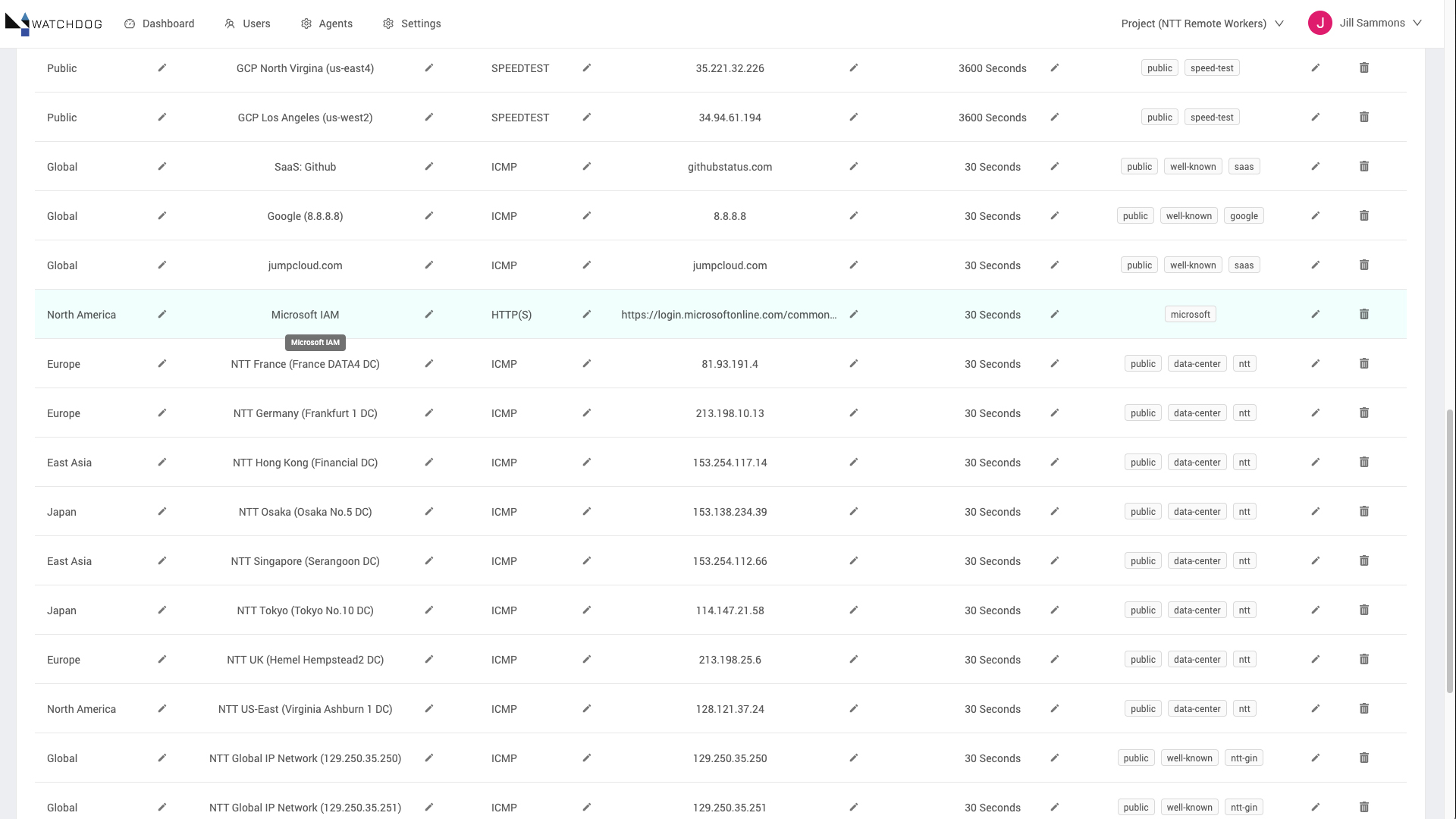 Probing Distributions to Agents
This process assigns targets to the agents
Once complete, aggregated monitoring metrics by geography, agent groups, and individual agents are searchable in the Wathddog dashboard
Step 1: Navigate to Probing Distributions
Click
to open the add probing distributions form


Step 2: Enter a unique probing distribution name

Step 3: Enable the probing distribution
Probing distributions can be created without enabling
Enable or disable probing distributions at any time from the probing distributions list

Step 4a: Target selection filters: Target groups
Select targets for the distribution by using target filters
The first optional filter is target groups
Selecting a target group will select all the targets assigned to that group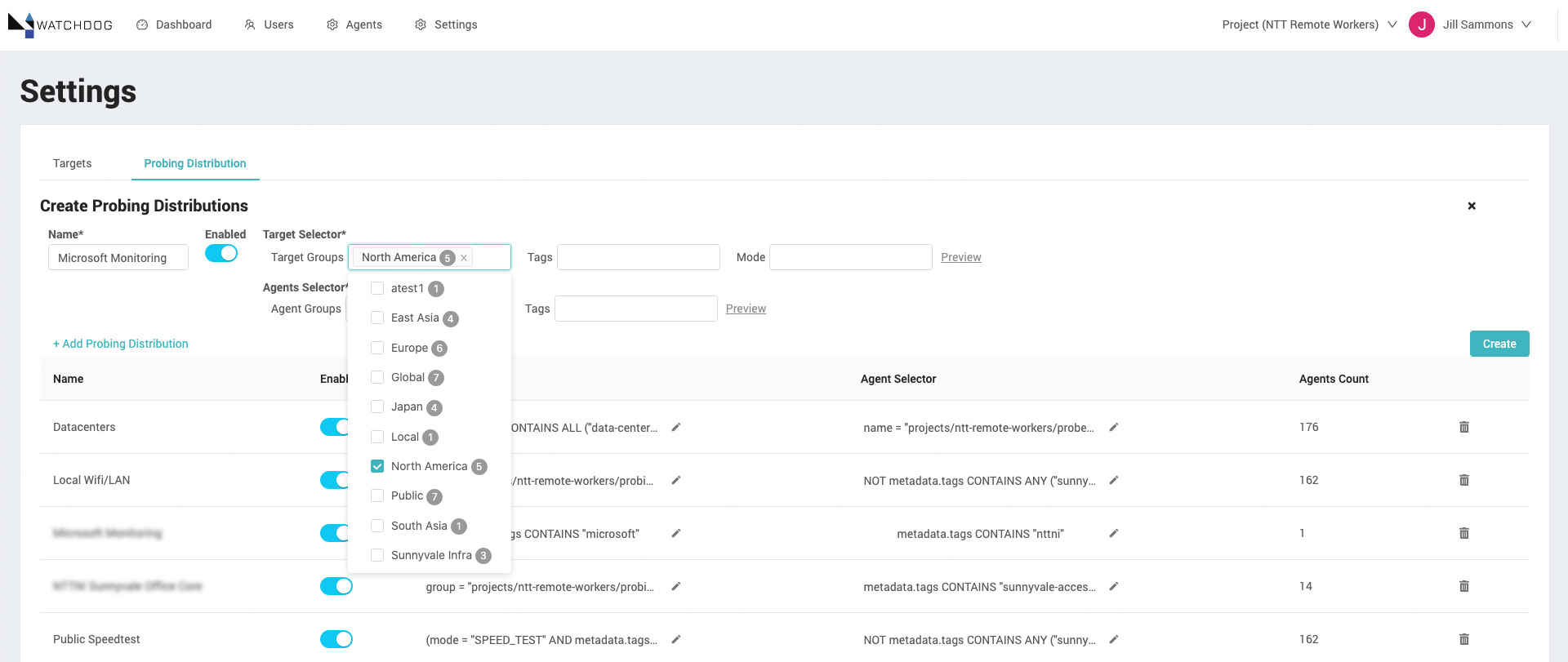 Step 4b Target selection filters: Target tags
Targets can also be selected using target tags
The dropdown shows all available target tags with the count of targets assigned each tag
If a tag is not visible, return to the target page, add a target tag by editing a target's tag field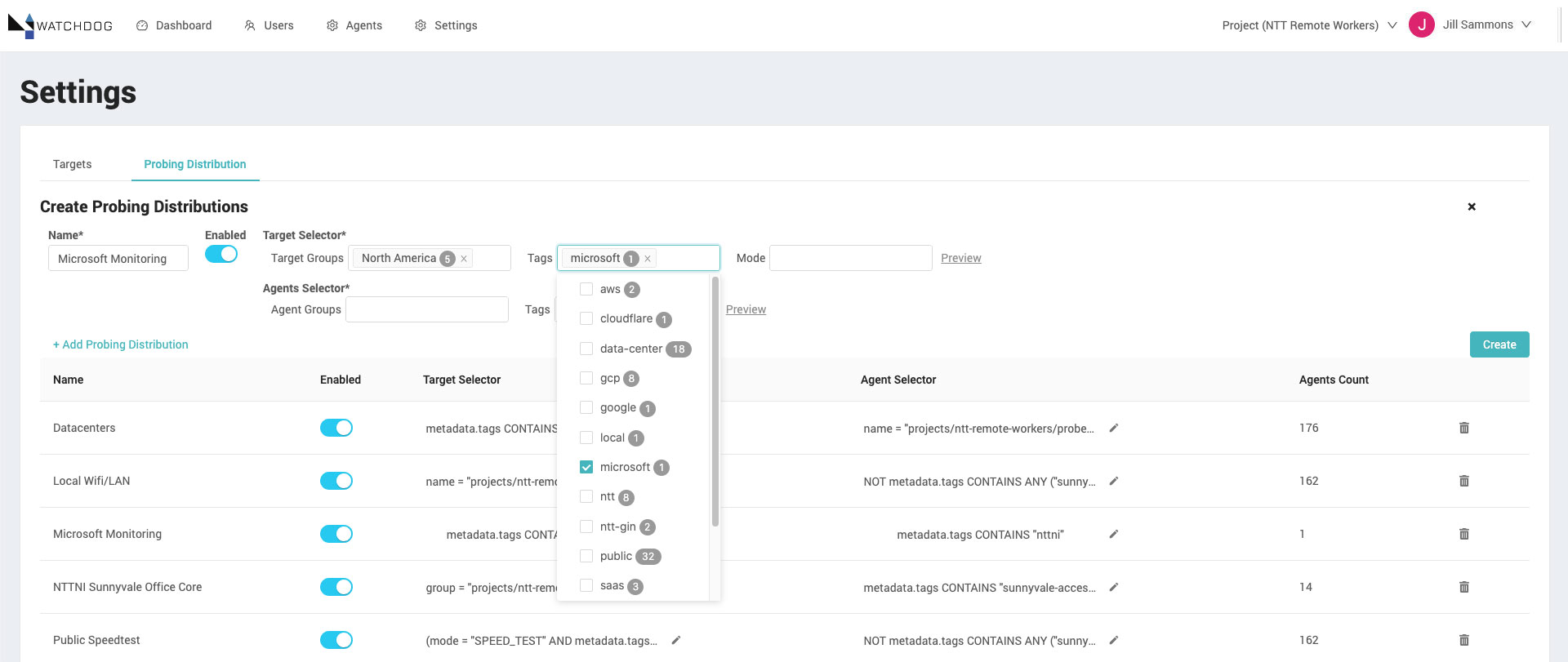 Step 4c: Target selection filters: Target mode
Targets can be selected by ICMP or speed test probing mode
This is a helpful filter to broadly assign a target by ICMP or speed test to all agents or a subset of agents within an agent group

Step 5: Target preview
Click preview to view a summary of the target-assignment selectors
If no targets match the target-assignment selectors, the preview will show a null value
The probing distribution can be saved with a null value. Data collection will start when a target is added or edited to meet the selected target-assignment

Step 6a: Agent Selection Filters: Agent groups
Select agents for the probing distribution by using agent filters
The first filter is agent group
Selecting an agent group will select all the agents assigned to that group
The dropdown shows all agent groups and the count of agents assigned to each agent group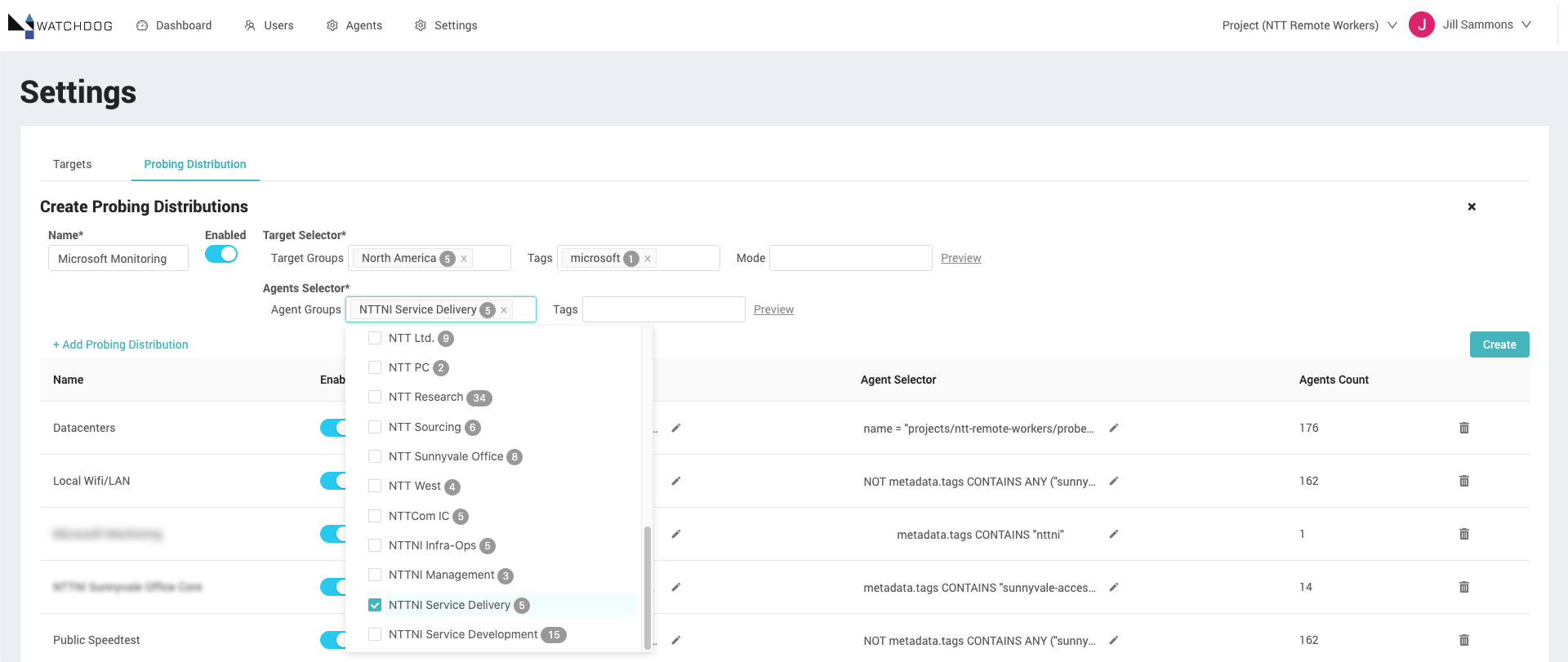 Step 6b: Agent Selection Filters: Agent tags
Agents can also be selected using agent tags
The dropdown shows all available agent tags with the count of agents assigned each tag
If an agent tag is not visible, navigate to the Agents page, add agent tags by editing the target field in the agent record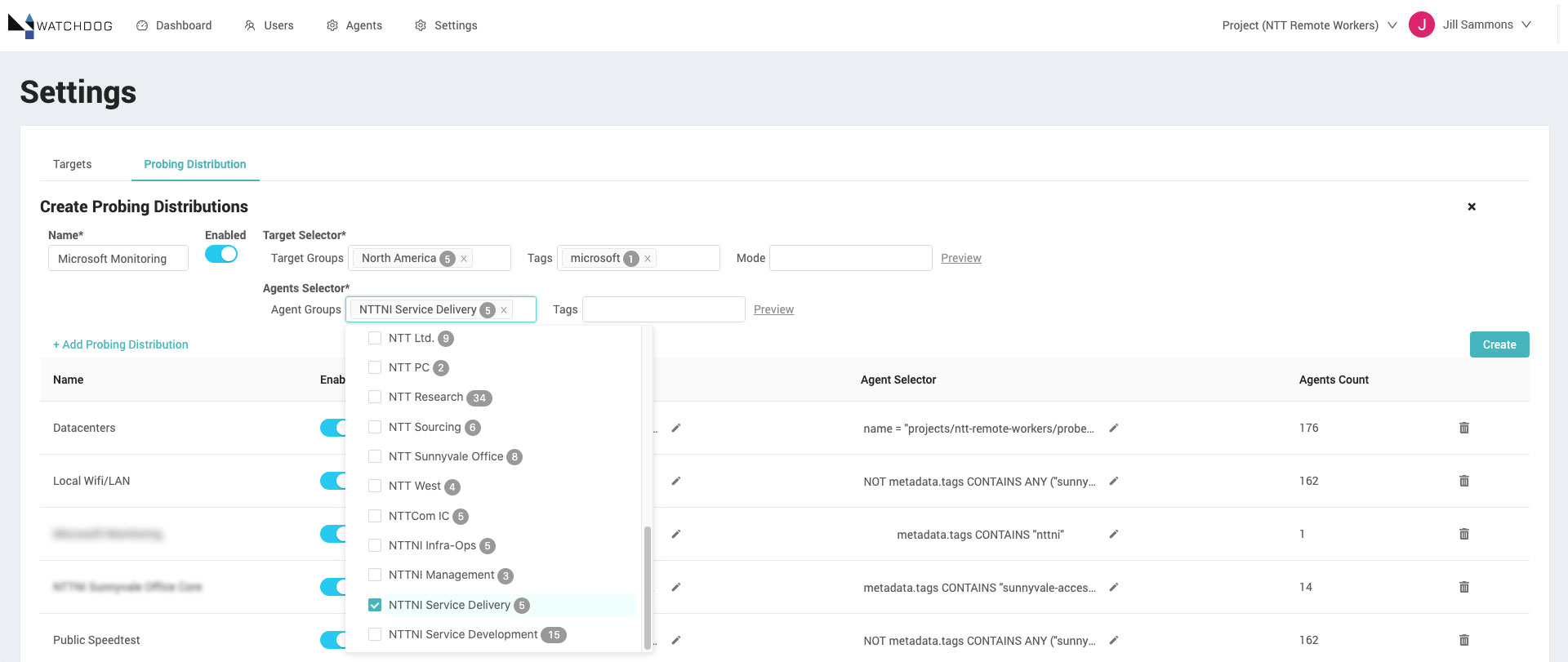 Step 7: Probing distribution has been created and assigned to matching agents
View and edit the newly created probing distribution

Target metrics are viewable for the assigned agents